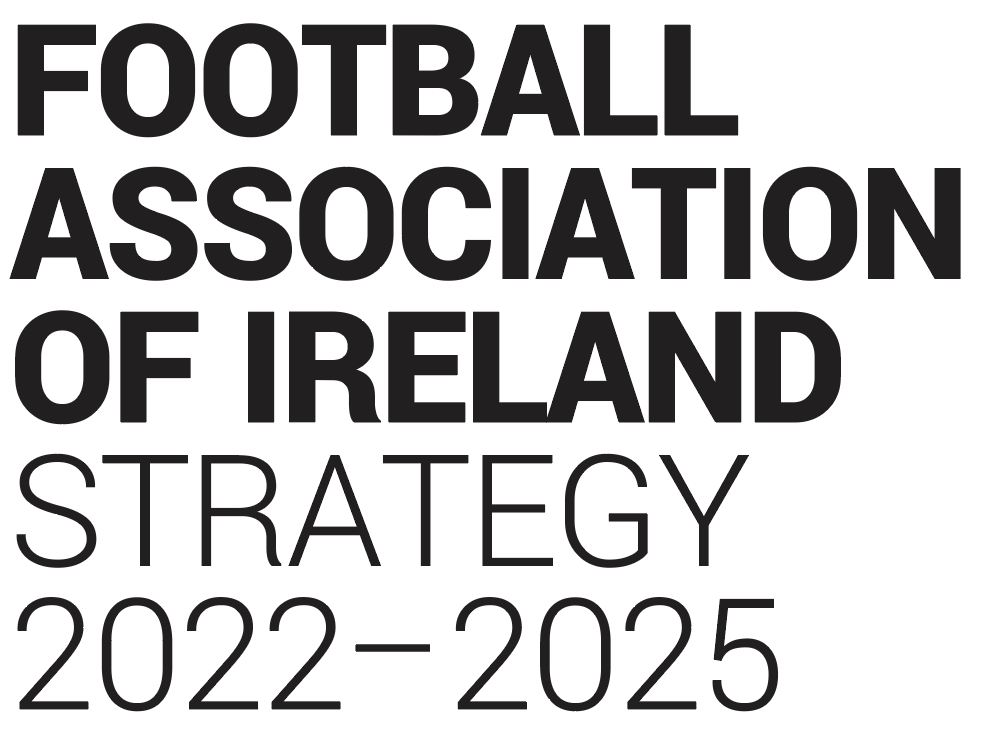 CAOIMHE NANNERY
CAMBRIDGE FC PLAYER

Football is amazing. I love playing with my friends and teammates - on the road and with Cambridge FC. Every day when I get home, I can't wait to get out playing. I dream of being Katie McCabe someday - I eat, sleep and breathe football.

DEREK BYRNE
IRELAND FAN

Supporting Ireland is a way of life. Home or away the collective spirit when you are supporting Ireland is unmatched. From grassroots through the LOI and into the international arena, the Irish football supporter brings a unique spirit, passion and attitude that has brought nothing but credit to our nation. The power of football in this country to inspire people, young and old, to make and to create friendships is beyond words.

CATHY MURRAY
BALLYOULSTER UNITED AFC COACH

I think its so important to encourage girls as much as possible at the introductory age, especially if they are new to a sport, or anything for that matter. Positive energy and engagement throughout is so important. It would be great to see all the girls continue on their journey and become part of teams at Ballyoulster United, hopefully even being involved at Senior level and falling in love with the sport and our club.

EDDIE KENNEDY
FOOTBALL FOR ALL COORDINATOR, CAHIR PARK AFC VOLUNTEER

Our Football for All programme has been running for over a decade now. It helps instil confidence and a healthy lifestyle in the players, gives them a social outlet to meet and make new friends and compete in sport which they may not have the opportunity to do elsewhere. It's all made possible by the fantastic group of volunteers who give up their time every week.

BRENDAN CLARKE
Shelbourne FC Goalkeeper and PFAIreland Chair

Football is everything to me, from growing up checking my schoolboy fixtures in the paper to being a professional footballer for nearly 20 years. I've seen it all, the highs and the lows. To say it's my job to play football on the same pitches as my LOI heroes is an absolute honour. There's no getting away from the emotion the game brings. Whether you're a schoolboy/schoolgirl or a professional footballer, for those 90 minutes, we are all equal.

GERARDINE NAGLE
KILLARNEY ATHLETIC AFC AND KERRY DISTRICT LEAGUE ADMINISTRATOR

Our club is at the centre of our community in Killarney, we have a hugely committed group of administrators that strive to give our members the best possible experience. We do it for the love of the game and to see those smiling faces coming through the gates each week.

DAVID GALLAGHER
REFEREE

Players are out there playing because they love the game, we're out there facilitating because we love the game. If we can all go in harmony then we are laughing together. Whether its under 12 or League of Ireland, you enjoy it all the way up. We all have a responsibility to make sure that the beautiful game, is kept beautiful.

MARGARET GODWIN
WALKING FOOTBALL PLAYER

I look forward to a Wednesday morning when I'm getting up and getting the stuff together before I go to football. It's great exercise and a bit of fun. My oldest grandson thinks it's great that Grandma is playing football, I hope I'm acting as a role model for all of my grandchildren.
OUR VISION
USING FOOTBALL TO INSPIRE THE NATION AND CONNECT COMMUNITIES
OUR PURPOSE
TO ENRICH THE LIVES OF ALL THROUGH POSITIVE FOOTBALL EXPERIENCES
OUR MISSION/
STRATEGIC PILLARS
OUR
MISSION
AND
STRATEGIC
PILLARS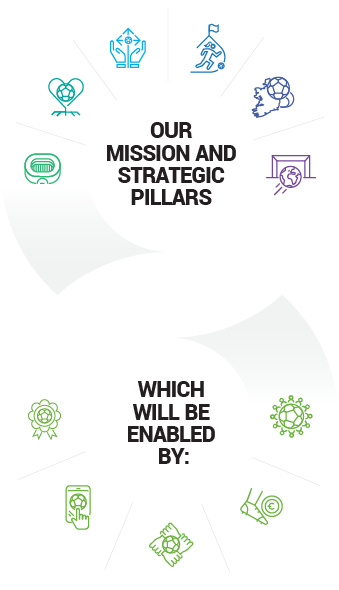 WHICH WILL BE ENABLED BY: